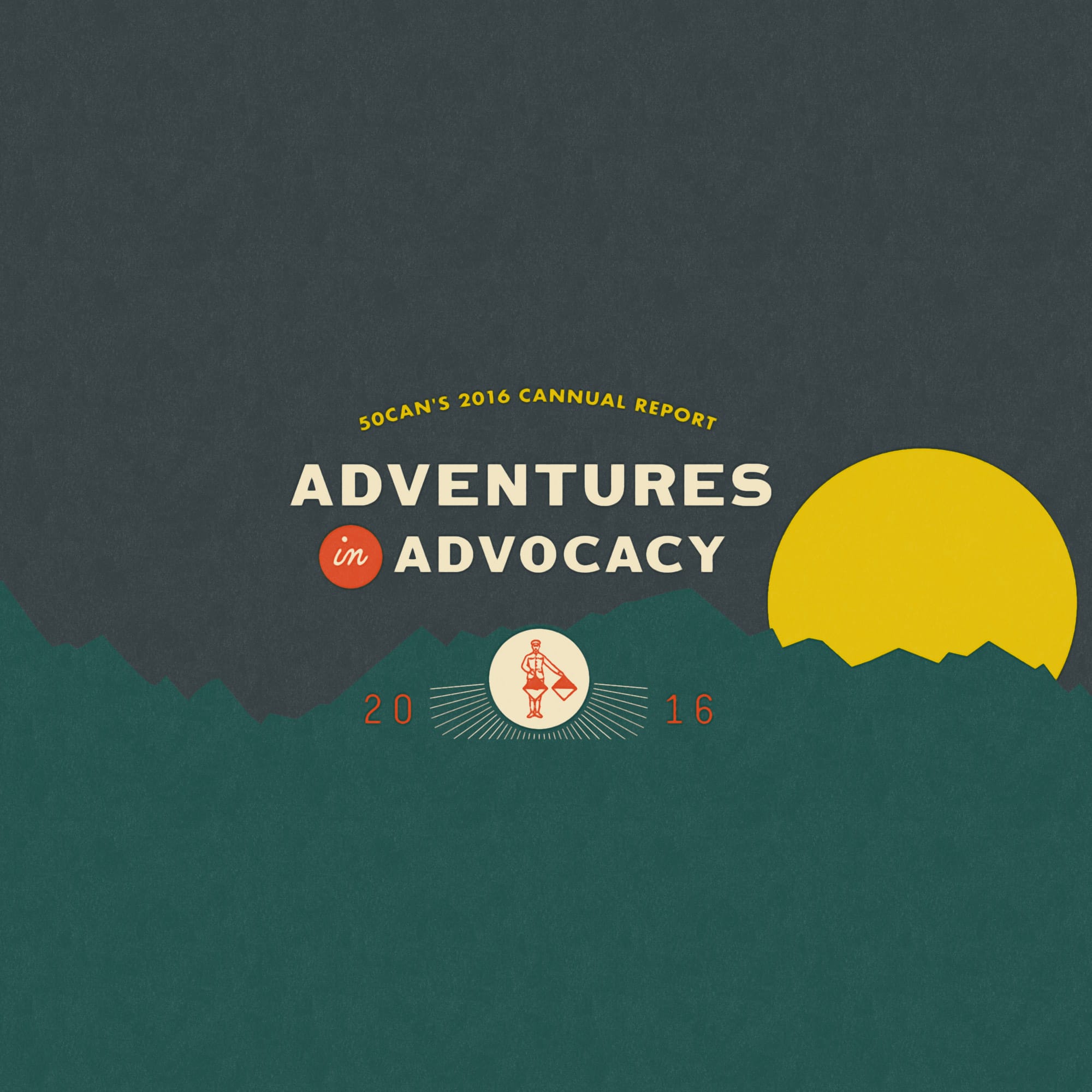 Hi there! We're 50CAN: The 50-State Campaign For Achievement Now.
To us, reimagining American K–12 education is more than a just cause, it's the most important work we can do as a democracy. Equipped with nonpartisan research and proven tools, the 50CAN network is driving the creation of stronger, more equitable schools in every state and community in our network. In this CANnual Report, you can explore the work we did together in 2016 and the path forward we're creating for all children.
To explore the CANnual Report, click on a header and scroll inside each section to learn more.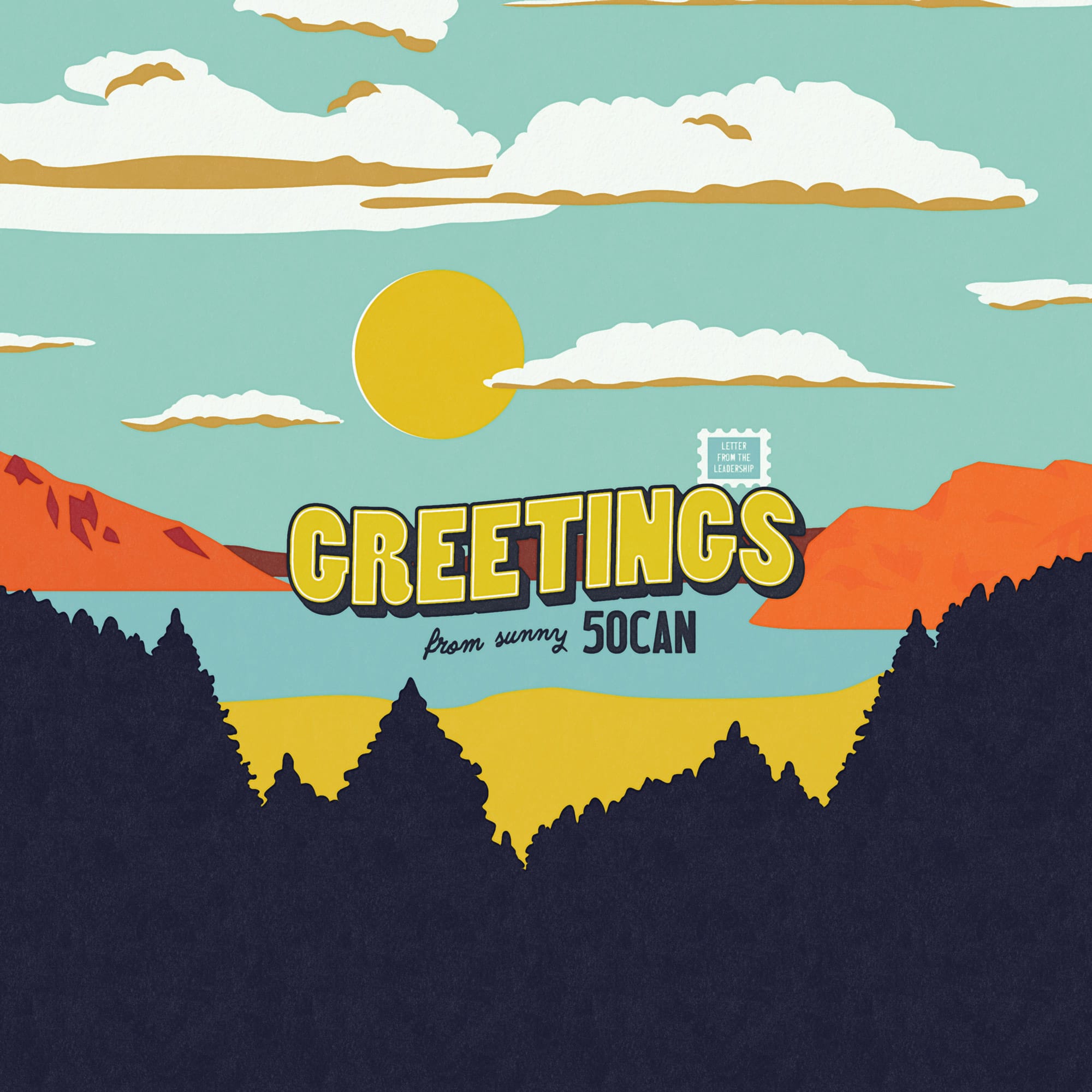 001
Dear friends,
Over the past six years, our journey as advocates has taken us into communities across this great land, forging deep friendships with fellow advocates and working together to secure important policy changes for kids. It's our pleasure to share what we've learned along the way: the 2016 park map to 50CAN.
Education advocacy can seem overwhelmingly complex, but the goal of our shared work is straightforward: All children deserve a high-quality education, regardless of their address.
We don't have simple answers to big questions, but we do have a strong vision forged through our shared experience. We know education advocacy demands equal parts resilience and accountability. At 50CAN, we strive to have the tenacity to stay the path regardless of the obstacles in our way and the dexterity to adapt our efforts based on what we are learning in the field.
Together with your support in 2016, we united two advocacy organizations deeply committed to our nation's students into one network of nine states, three fellowship regions and 14 communities of citizen advocates. We launched YouCAN, our leadership development program that equips advocates from across the country with the tools and resources to start education projects in their hometowns. And we secured 17 legislative victories in our states to strengthen support for families and students.
We're excited to travel the path together in the months and years to come.

Sandra L. Vargas
Board chair

Marc Porter Magee
CEO & Founder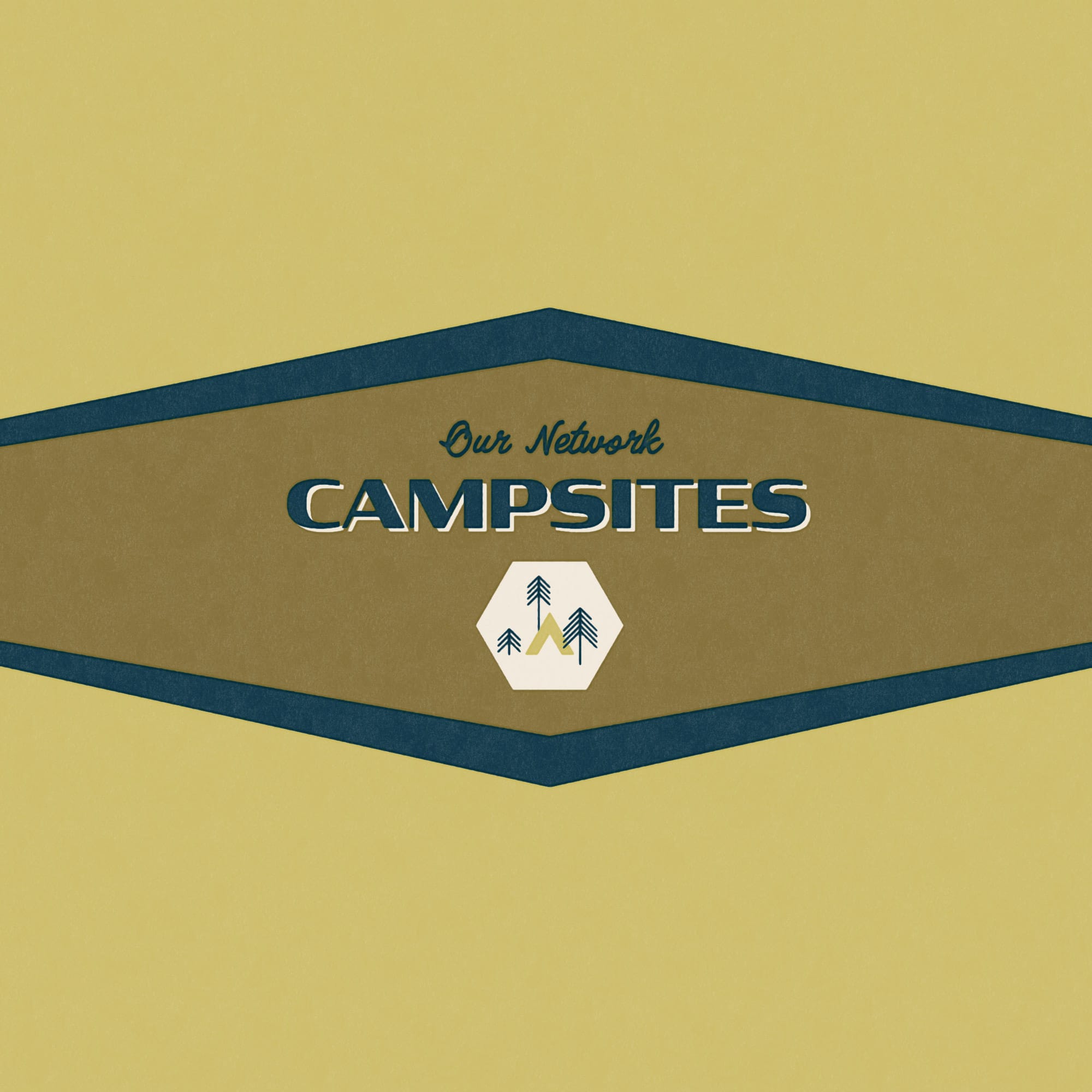 002
The 50CAN network grows every year to include more state branches, affiliates, fellowship regions, neighborhood initiatives and more. In the spring of 2016, StudentsFirst and 50CAN merged their networks to go further together on behalf of 11 million students.
This merger was the next step towards an education movement where leaders in communities across the country work together to build advocacy campaigns that are locally grown, locally led and locally sustained. The combined network brings together more than 50 advocates across the country, supported by a national team of policy, communications and strategy experts.
At the end of 2016, we were proud to support a network of nine state CANs, three fellowship regions and 14 YouCAN communities.
State-based campaigns

1

Georgia

2

Maryland

3

New Jersey

4

New York

5

North Carolina

6

Pennsylvania

7

Rhode Island

8

South Carolina

9

Tennessee

Fellowship states

10

Florida

11

New Jersey

12

New Mexico

YouCAN communities

13

Baltimore, MD

14

Charlotte, NC

15

Cumberland, RI

16

Duluth, MN

17

Gaithersburg, MD

18

Newark, NJ

19

New York, NY

20

Pawtucket, RI

21

Philadelphia, PA

22

Pittsburgh, PA

23

Providence, RI

24

Randallstown, MD

25

Roxboro, NC

26

Washington, D.C.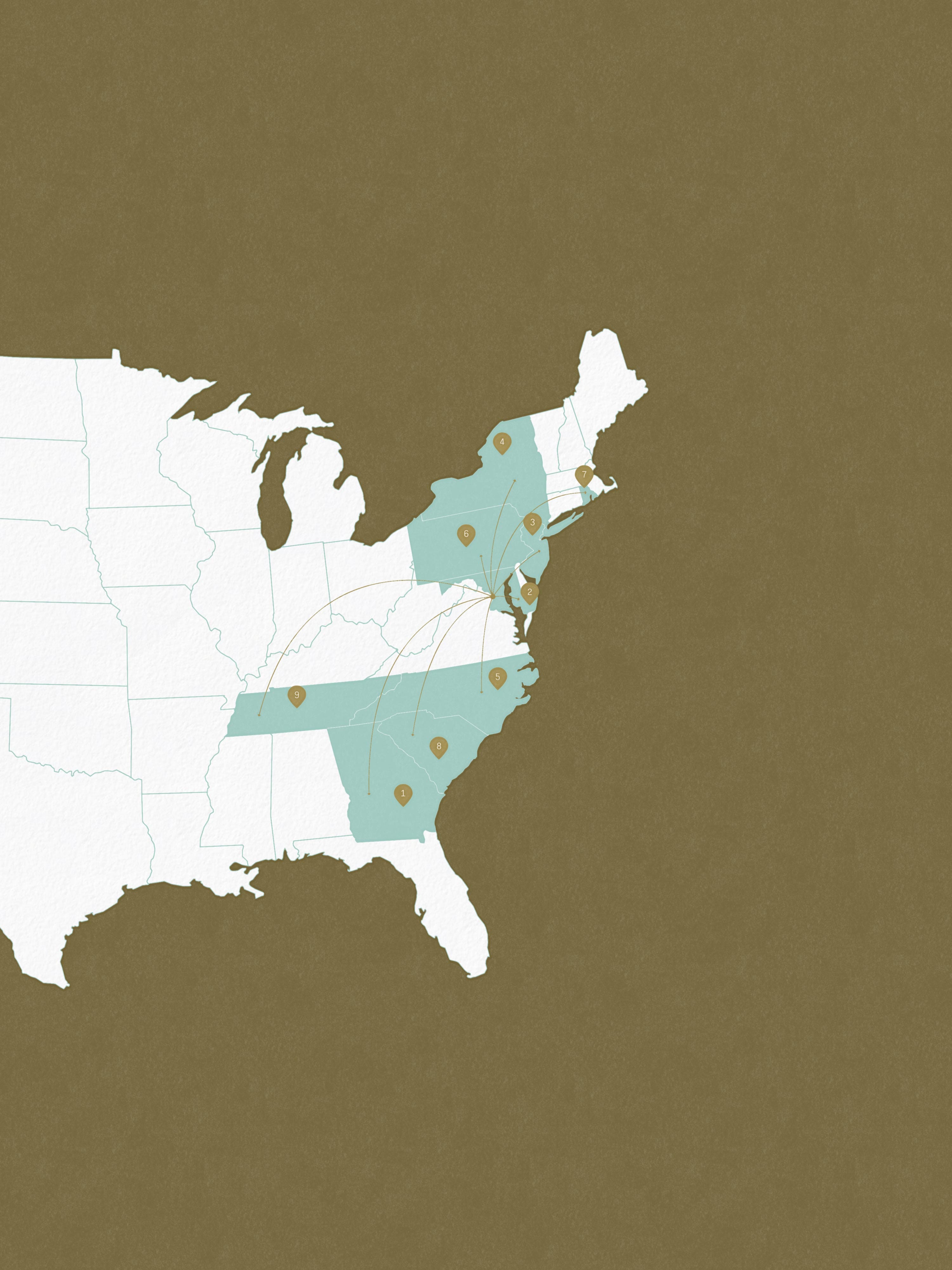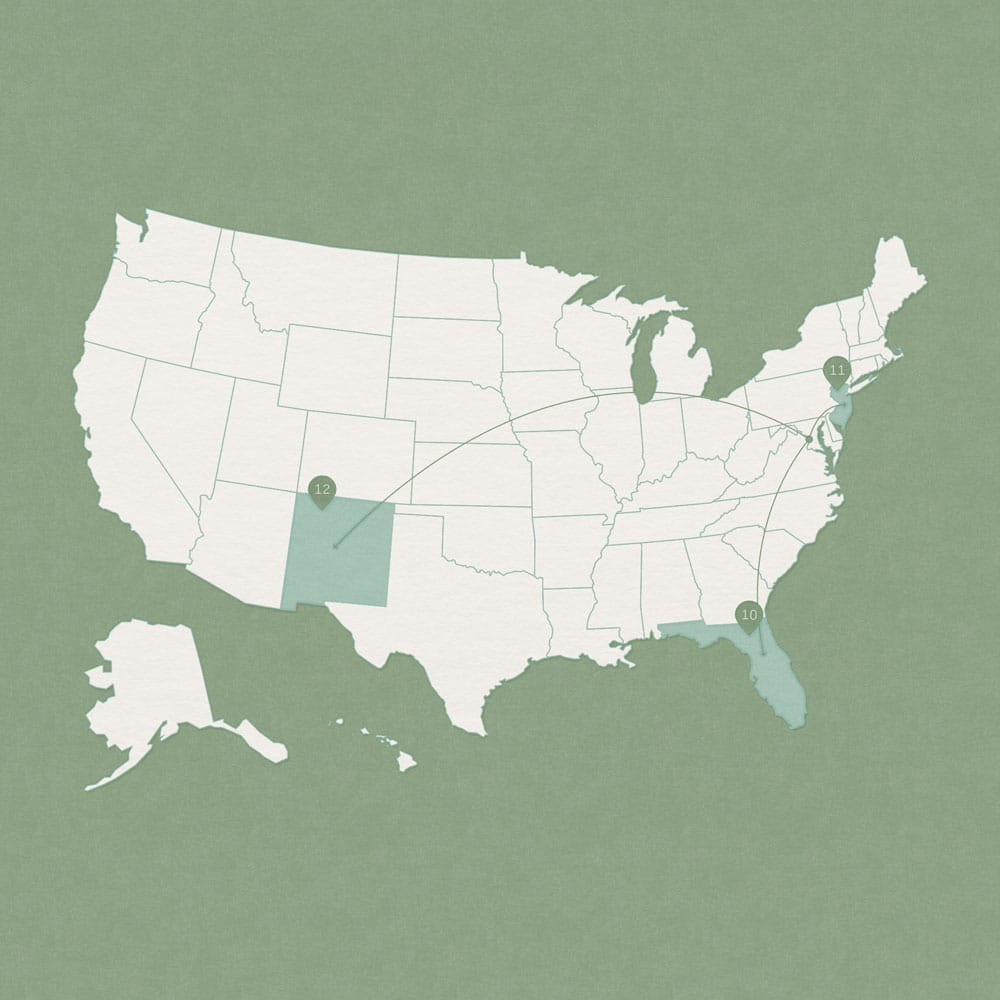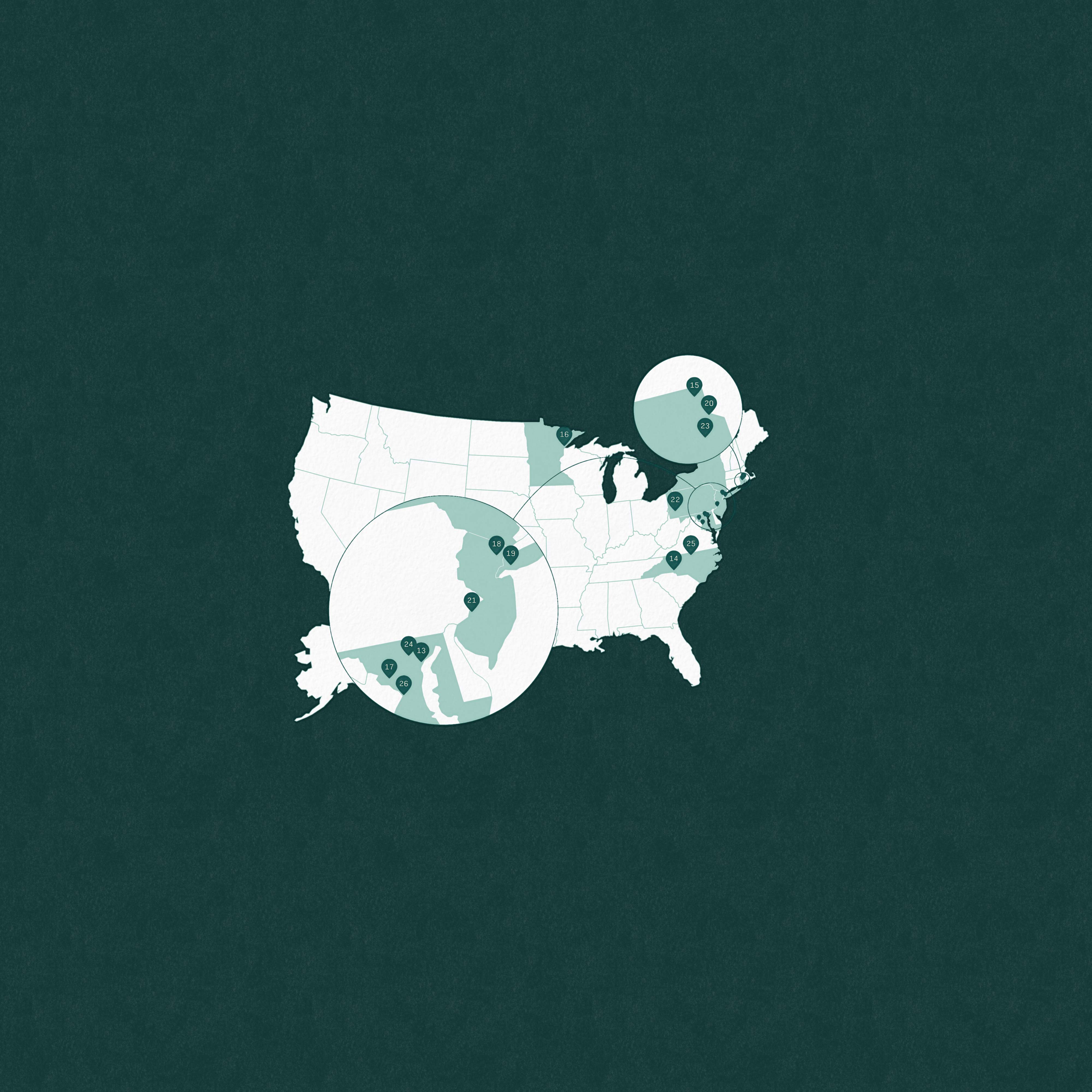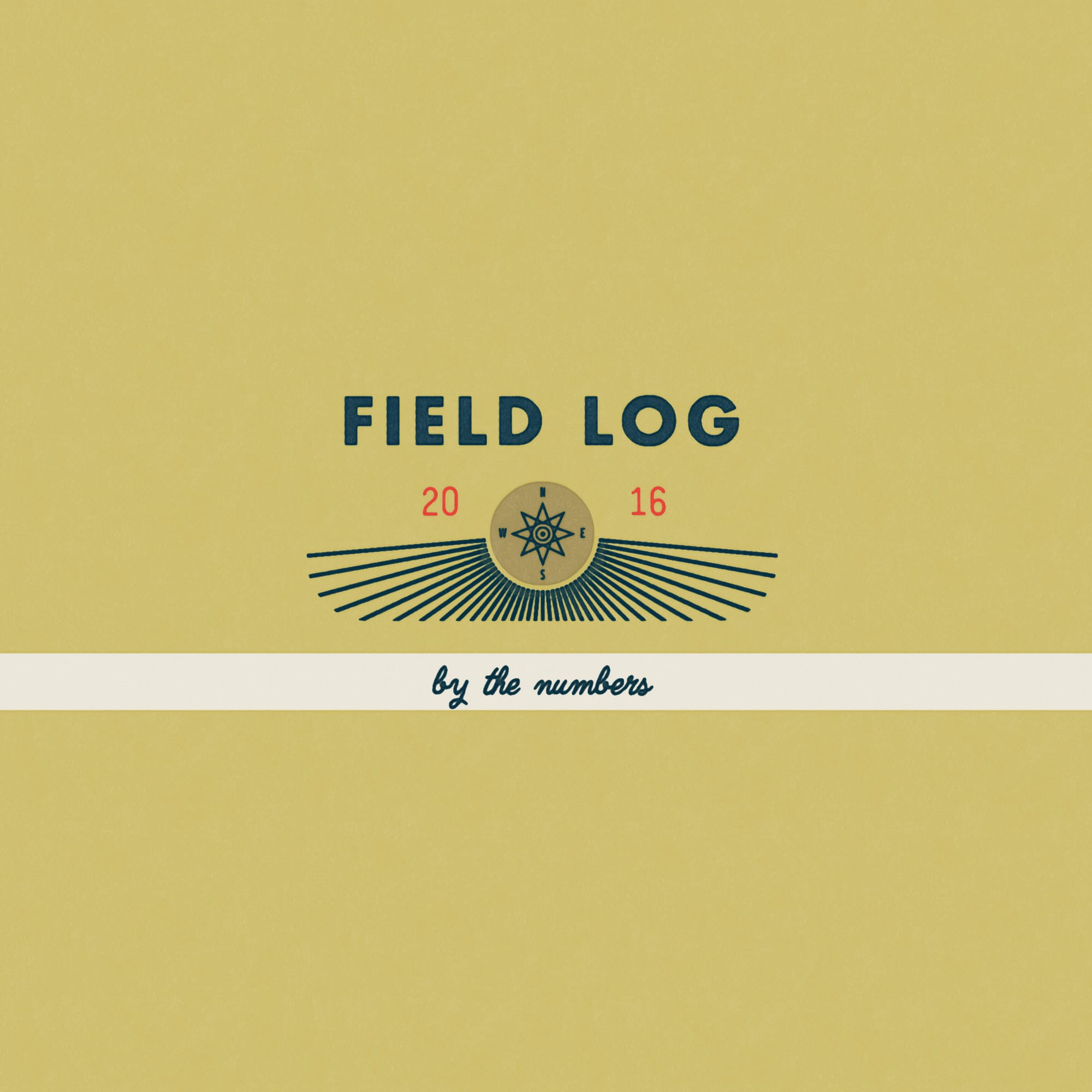 003
A snapshot of our work in 2016:
kids served across the 50CAN network
applications received for our leadership training programs
Grew the 50CAN network to 9 states
presentations on education advocacy at conferences and panels
media hits generated on education advocacy and policy reform
miles traveled to speak with advocates
original blog posts
policy wins for kids secured
report featured on "Last Week Tonight with John Oliver"
Grew our social media audience to 100,836 members across Facebook, Twitter and Instagram
advocacy projects piloted in YouCAN communities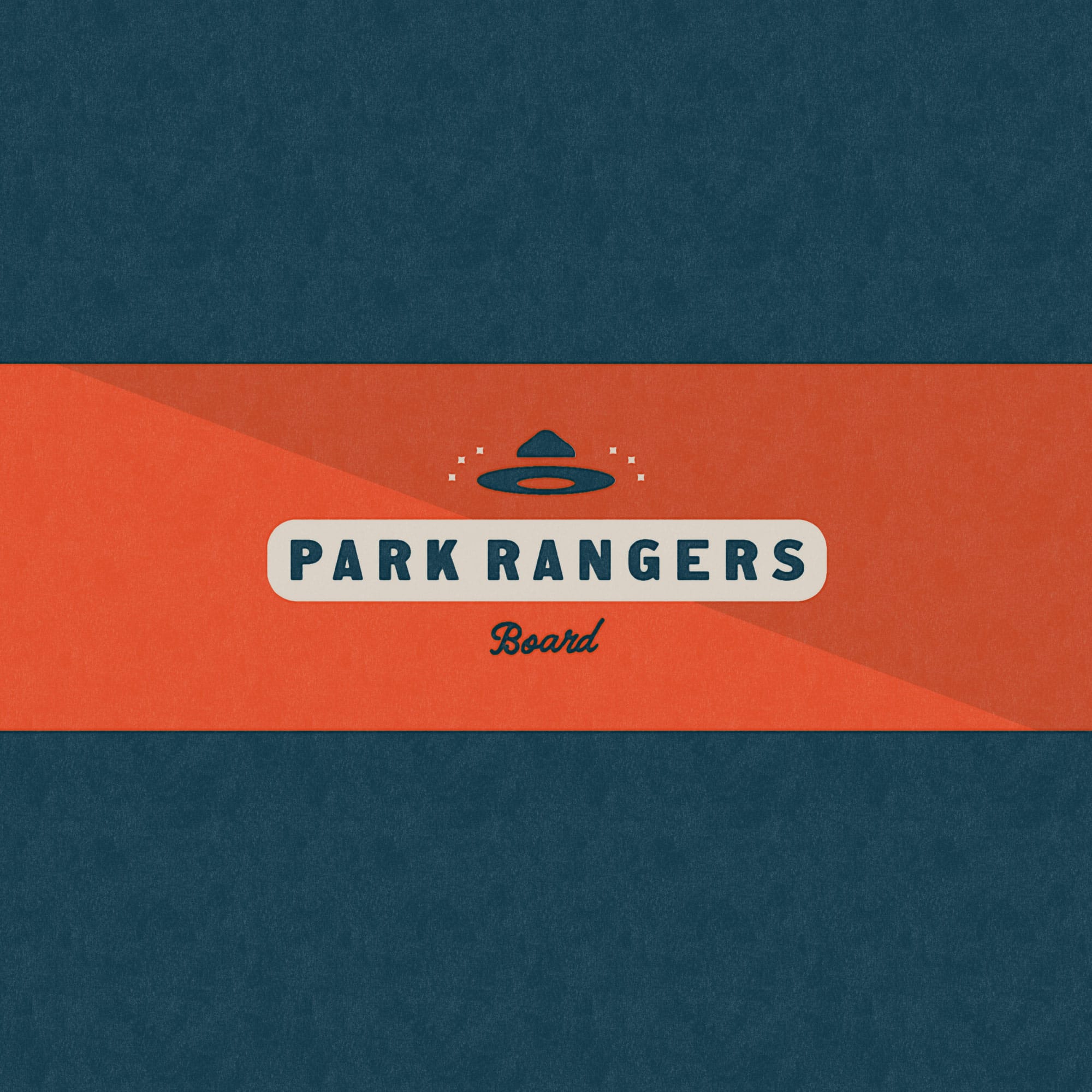 004
50CAN's national and state board of directors are made up of leaders in education, business and philanthropy. Together, we are working to ensure that our advocacy efforts get meaningful results for the kids we serve.
50CAN Board
Sandra L. Vargas, board chair, former CEO & president, The Minneapolis Foundation
Ann Borowiec, former CEO, J.P. Morgan Private Wealth Management
Marc Porter Magee, CEO & founder, 50CAN
Roland Martin, managing editor & host, NewsOne Now
Michael Phillips, senior pastor, The Kingdom Life Church
Jonathan Sackler, director, Purdue Pharma, founder, ConnCAN
Dacia Toll, co-CEO, Achievement First
David Wick, chief external impact officer, KIPP Foundation
GeorgiaCAN Board
Joselyn Baker, founder, Butler Baker Communications
Former Representative Mike Dudgeon, Georgia House of Representatives
Erin Hames, president, ReformEd
Robert Hennessy, president, Hennessy Jaguar Land Rover Centers of Atlanta
Dwight Ho-Sang, school leader, KIPP Ways Academy
Danielle LeSure, CEO and president, EdConnect
JerseyCAN Board
Ann Borowiec, board co-chair, former CEO, J.P. Morgan Private Wealth Management
Tom Kean, board co-chair, former Governor of New Jersey
Ray Chambers, UN Special Envoy for Financing the Health MDGs and for Malaria
Samuel Cole, president & COO, Phigital, Inc.
Mary Farrell, director, The Maeve Foundation, Inc.
Shané Harris, vice president, The Prudential Foundation
Christine Healey, president, Healey Education Foundation
Tom Healey, managing partner, Healey Development
Susan Bass Levin, president & CEO, The Cooper Foundation
Dr. Michael Nettles, senior vice president, Educational Testing Service
Larry Rogers, treasurer, Better Education for Kids
Walter Shipley, retired chairman & CEO, Chase Manhattan Bank
Josh Weston, honorary chairman, ADP, Inc.
MarylandCAN Board
Donald Manekin, board chair, founding member, Seawall Development Company
Kim Lee Bedford, community resource coordinator, Roland Park Elementary/Middle School
Alice Johnson Cain, vice president for policy, Teach Plus
Jeff Cohen, CEO, Sylvan Learning
Tom Gildee, president, Kids-R-VIPs Foundation
Michael Phillips, senior pastor, The Kingdom Life Church
Omari Todd, senior vice president, regional operations, Teach For America
Mitchell Whiteman, portfolio manager, Brown Advisory
NorthCarolinaCAN Board
Pamela Blizzard, managing director, Research Triangle High
Nafeesha Irby, executive director, Teach For America Piedmont Triad
Taylor Griffin, consultant
Rick Lawson, executive director, Children's Museum of Wilmington
NYCAN Board
Richard Constable, senior vice president, Wyndham Worldwide
Ed Kirby, education consultant
PennCAN Board
Mark Gleason, board chair, executive director, Philadelphia School Partnership
Adiah Ferron, counsel, AstraZeneca Pharmaceuticals, LP
Brook Lenfest, CEO, Netcarrier
Marc Mannella, CEO & founder, KIPP Philadelphia Schools
Mike Pearson, CEO & founder, Union Packaging
RI-CAN Board
Joe Dewhirst, board member, RI Health and Educational Building Corporation
Gara Field, director of global education, Moses Brown School
Kara Milner, Rhode Island parent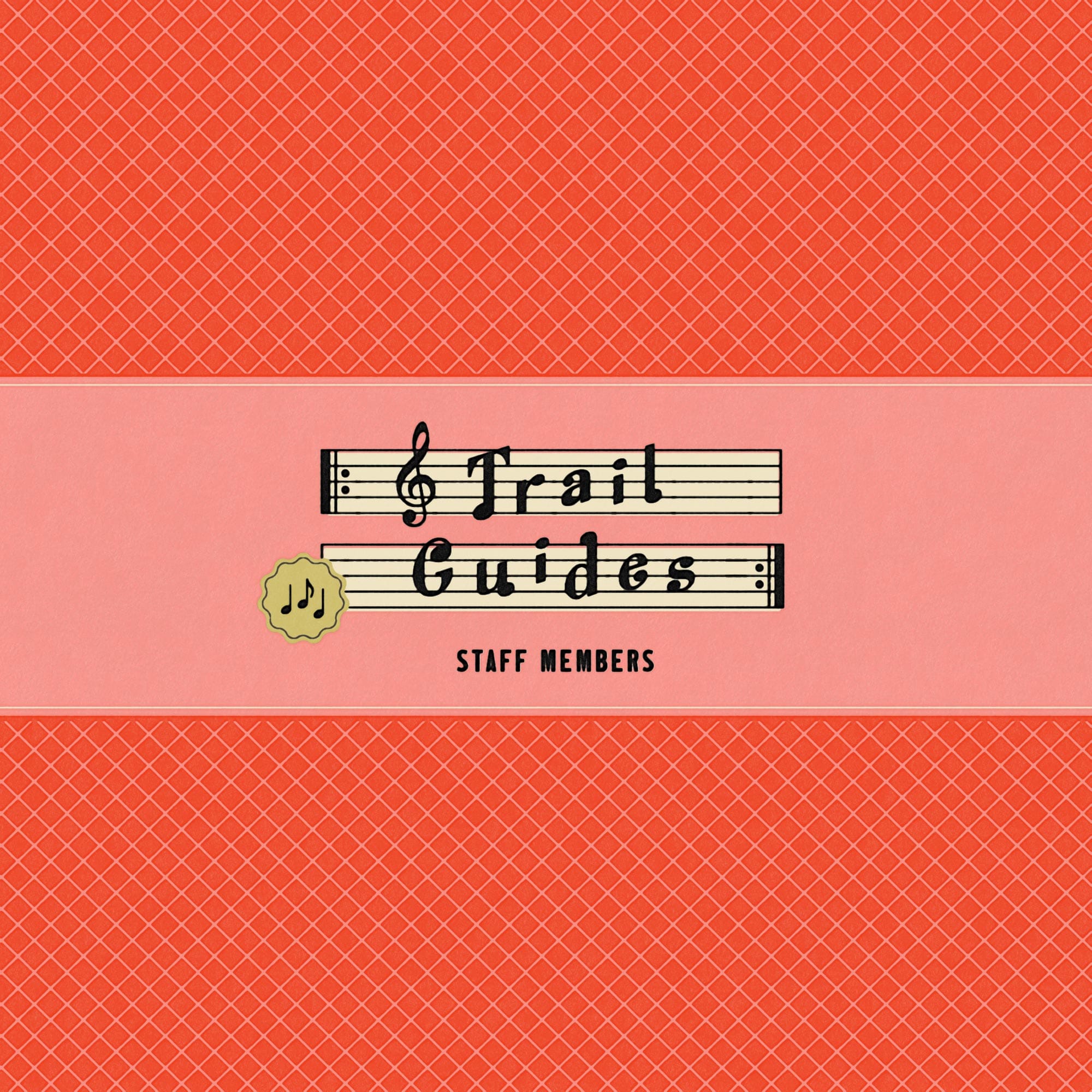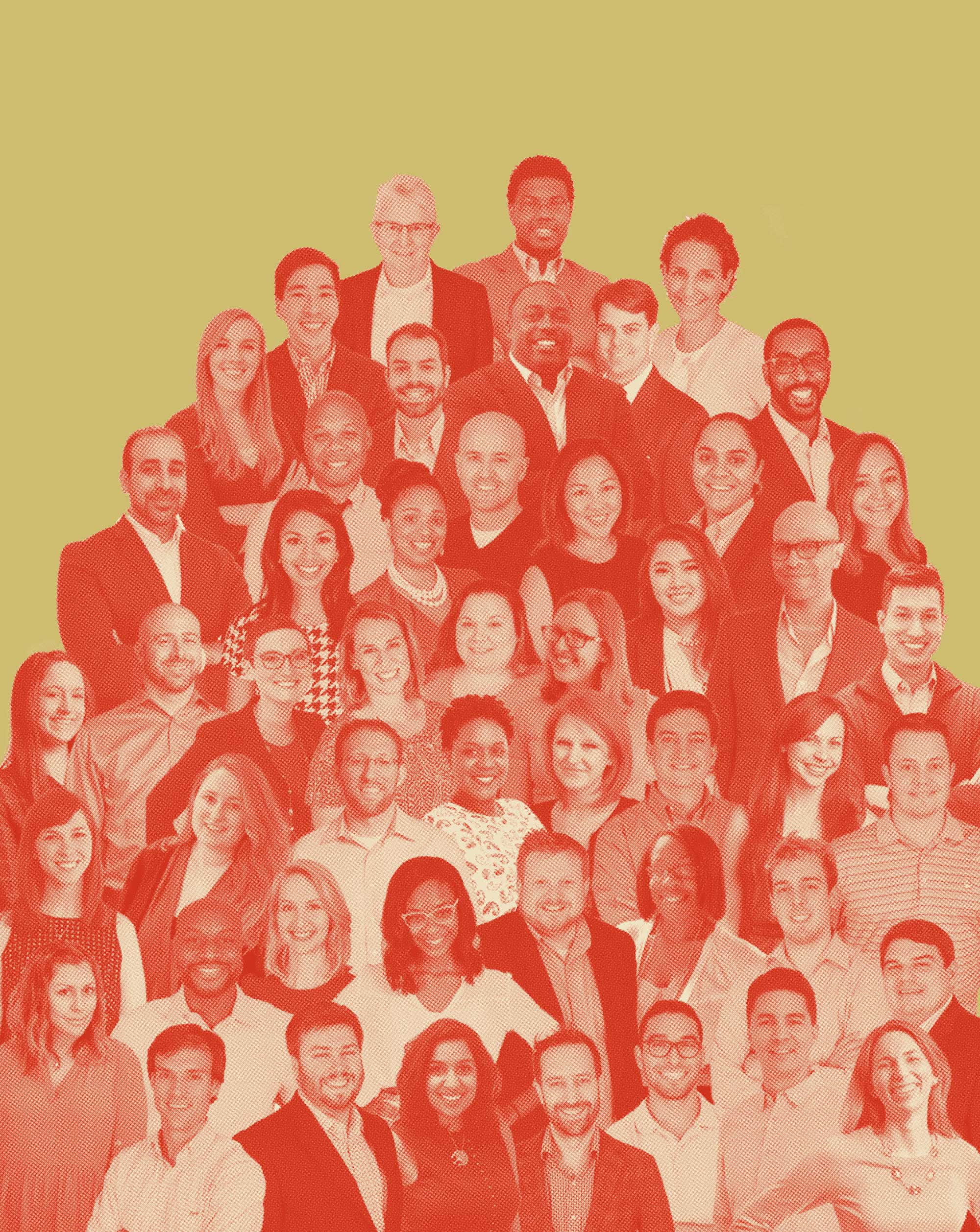 005
At 50CAN, no one works in isolation. By embracing a sense of community in 2016, our advocates became part of an inspiring national network of talent and ideas. These team members worked tirelessly for students, displaying optimism, relentlessness, candor, humility and a commitment to "plus" our work. Meet the 50CAN trail guides!
​Atnre Alleyne
Rachel Amankulor
Sarah Dolejs Aronson
James Blew
Jason Botel
Theodore Boyatt
Derrell Bradford
Kenneth Marcus Brandon
Charles Bufalino
Alexandra Cassanova
Jonathan Cetel
Stephanie Chapman
Eva Colen
Singer Crawford
Christine Dinsay
Janellen Duffy
Kathryn Duval
Brent Easley
Victor Evans
Morganne Firmstone
Lisa Gibes
Rebecca Greenberg-Ellis
Kathryn Hanna
Jessica Hickernell
Isabel Huston
Latisha Johnson
Tremaine Johnson
Jenese Jones
Alexander Jue
Arash Kamiar
Dana Laurens
Alexander Macaulay
Marc Porter Magee
Yamuna Menon
Beth Milne
Michael O'Sullivan
Takashi Ohno
Steven Quinn
Shelonda Richardson
Seth Saavedra
Akinluyi Shonekan
Udeitha Srimushnam
Andrew Stanecki
Edward Stanley
Floyd Bradford Swann
Elizabeth Frosch Taylor
Christopher Tessone
Vallay Varro
Daniel Zavala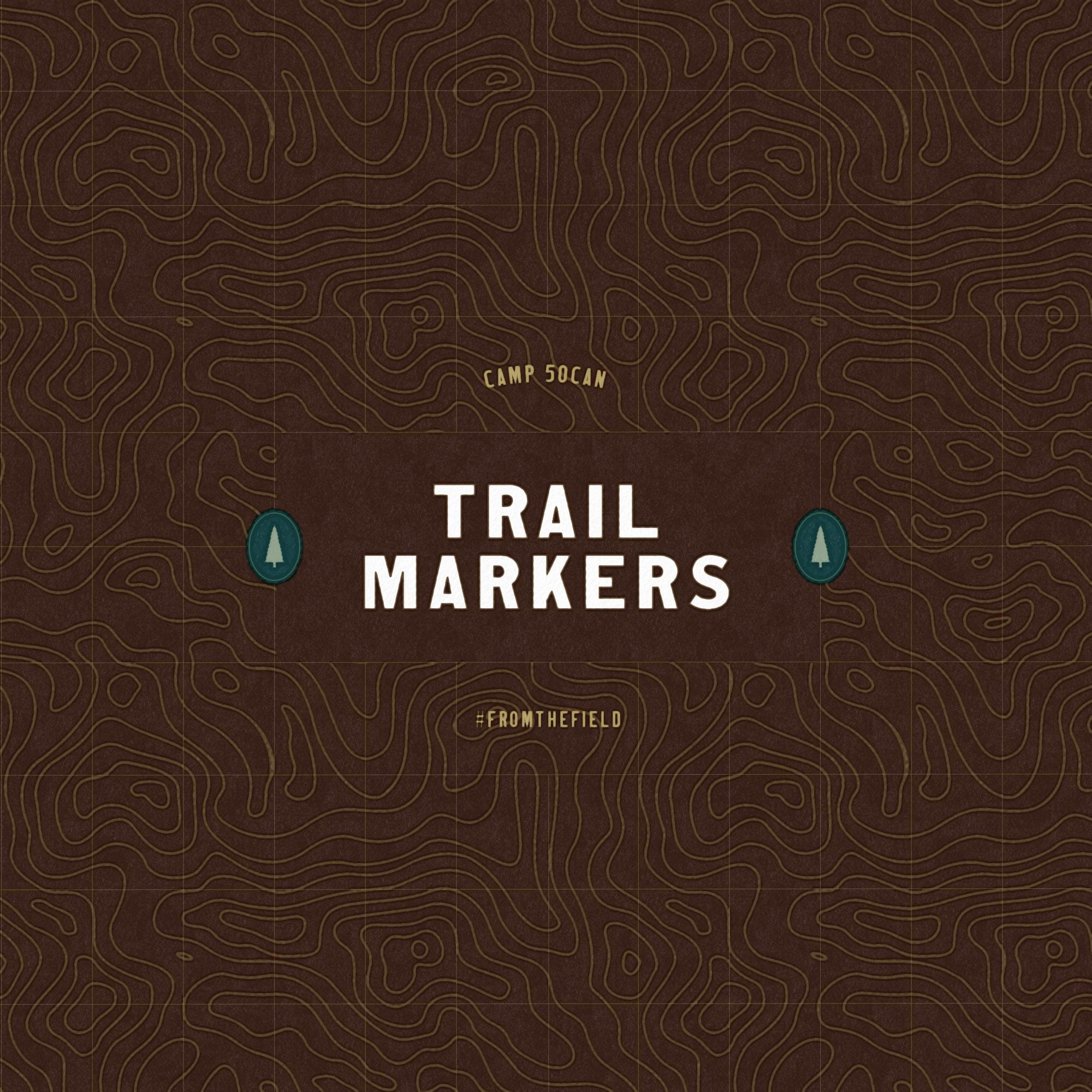 006
Education advocacy can often sound wonky, but it boils down to this: At 50CAN, we want to connect citizen advocates with each other and give them a platform to bring a high-quality education to all kids. We share the work of inspiring advocates in our #FromtheField series, documenting the work of our local leaders on social media in real-time. Here are some highlights from 2016:
GeorgiaCAN
New name, same commitment to kids. As part of the 50CAN merger with StudentsFirst, we welcomed GeorgiaCAN into the 50CAN network. In 2016, GeorgiaCAN piloted an innovative rapid response communications system: Capitol Alerts. Through this text message-based communications platform, the GeorgiaCAN team supported more than 900 community members in contacting their legislators about education issues. If you live in the Peach State, you can stay up to date on the important work being done at the state legislature.
JerseyCAN
Camden, New Jersey is a community of promise. With its culturally diverse roots and rich history as a bustling hub of industry, the city has immense potential. It teems with life, and is home to so many people dedicated to enriching their community with dreams of success for their children. At the center of that promise lies high-quality school options, where families are empowered to enroll their children in schools of their choice across the city. JerseyCAN published A City Invincible: School Choice and Hope in Camden in February 2016 to highlight the work being done in Camden and the path forward for families seeking educational options in the city.
MarylandCAN
In the summer of 2016, MarylandCAN partnered with Baltimore City Schools to implement a peer-to-peer principal mentoring program. The Baltimore Principal Leadership Consultancy was a yearlong fellowship to provide principals with high-quality, intensive professional development from peers with strong track records of leading children from low-income households to succeed at high levels. Principals in the program engaged in mentoring sessions and cohort experiences to deepen learning and successfully implement best practices.
NorthCarolinaCAN
50,000. That's how many low-income students in North Carolina were granted access to unprecedented opportunity in 2016 thanks to the creation of an Achievement School District and a historic expansion of the Opportunity Scholarship program. It's also the average salary N.C. teachers made beginning in the 2016-17 school year—the highest average ever in state history. Together with state partners, NorthCarolinaCAN championed this legislation throughout 2016, marking one of their most successful policy victories to date.
NYCAN
There's power in the people. In October 2016, NYCAN executive director Derrell Bradford spoke at the "Path to Possible" rally in New York City, organized by Families for Excellent Schools. The event brought together 3,000 families and teachers to show support for schools of choice and encourage Mayor Bill de Blasio to lift the cap on charter schools in the city. Derrell spoke alongside educators and administrators from Success Academy and KIPP Schools.
PennCAN
The PennCAN team has crisscrossed the Keystone State countless times in their advocacy and legislative work, but 2016 saw a special emphasis on Pittsburgh. In November, PennCAN and partner A Plus Schools hosted a schools of choice fair for families in Allegheny County. With more the 20 schools—charter, magnet and private included—students and families were introduced to all the educational options in their community.
RI-CAN
In 2016, a little state took on a big initiative: to elevate teacher voices on personalized learning and inform policy campaigns in the future. RI-CAN launched Learning Pioneers as a summer fellowship to help educators translate their classroom work into shared goals. With more than 60 applicants for three fellowship positions, RI-CAN brought together some of the most innovative minds in classroom learning. Meet these pioneering fellows, and see how their work is shaping the future of personalized learning policy!
SouthCarolinaCAN
The South Carolina team has been advocating for kids in the Palmetto State since 2013, and joined the 50CAN network in 2016. With a new name but the same driving spirit in providing a high-quality education to all SC children, SouthCarolinaCAN set out to speak with South Carolinians across the state to get their thoughts on educational issues at the statehouse and in their own backyard. The results of this listening tour will shape the policy pathway for the organization for years to come. Read more about what South Carolinians think about local education issues.
TennesseeCAN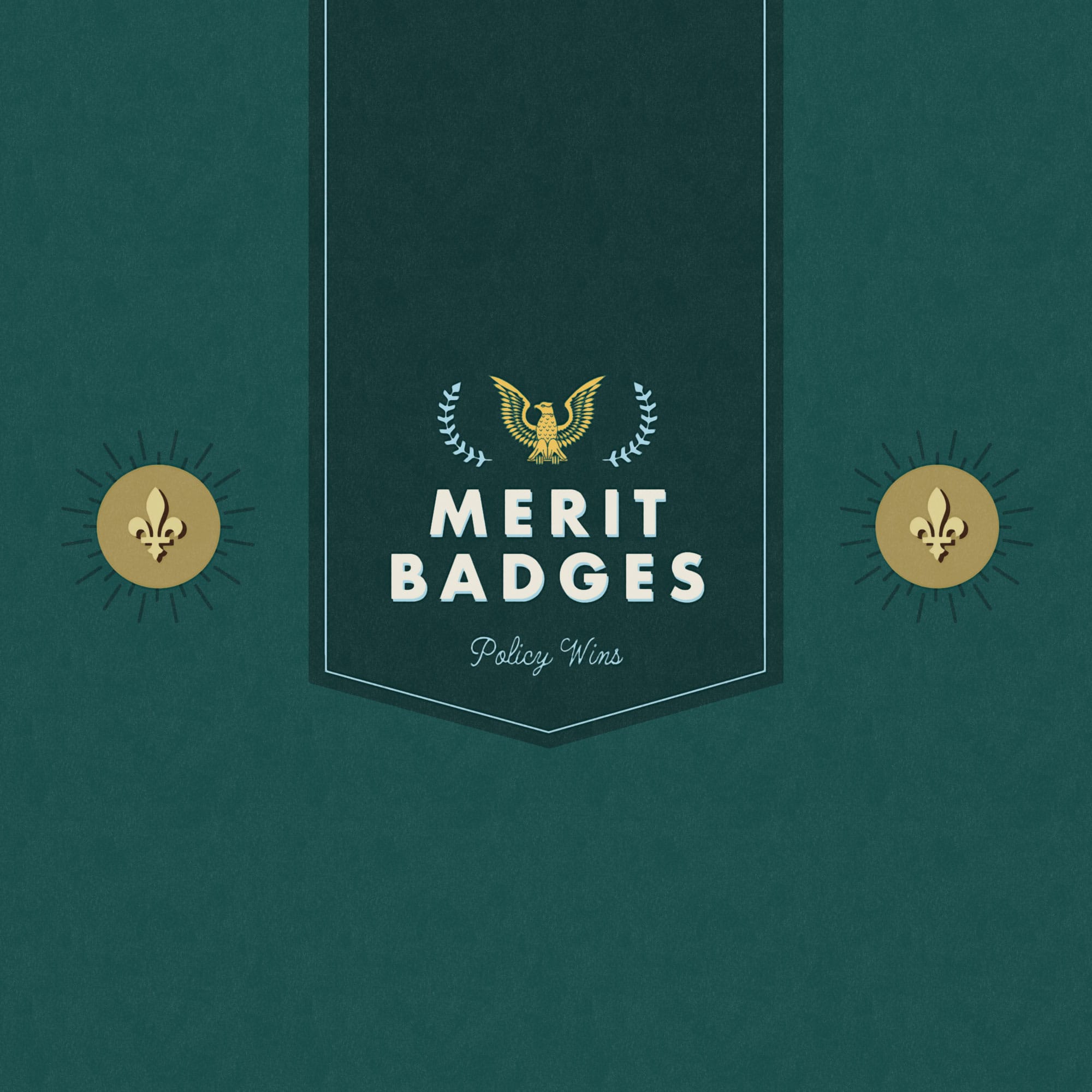 007
We believe in the power of evidence-based policy and the power of open advocacy.
All of our campaigns must start with proven theories of change—what we have seen add up to a real difference in students' lives. That means researching the best policies for kids and learning from the results on the ground in communities across the country. It also means a commitment to open advocacy by building campaigns in the light of day and reporting on them with candor and humility. This openness strengthens accountability, accelerates our learning across the network and promotes trust. Like the students we work so hard to serve, advocacy thrives on a constant flow of new ideas and sound knowledge.
Our work is based in five guiding policy principles:
Start earlier

Put every child on the path to success by ensuring all students have the opportunity to attend a high-quality preschool.

Expand choices

Provide families with multiple options so they can find the learning environment that best meets the needs of their children.

Aim higher

Set clear, rigorous standards for the knowledge, skills and abilities students need to have to succeed in the global economy. Use trusted assessments to measure progress towards these goals and hold schools accountable for results.

Cultivate talent

Create an environment where America's most talented teachers and leaders thrive by attracting great teachers and giving them more freedom and support in their own classroom.

Reach everyone

Meet every child where they are and bring them up to where they need to be by ensuring they graduate with the skills, knowledge and abilities needed to be happy, healthy, productive adults who make the world a better place for all.
Expand choices
Wins
Expanded high-quality options with fair funding and facilities for all schools in NEW JERSEY.
Expanded the number of high-quality school options in CAMDEN, NEW JERSEY.
Increased access to high-quality seats for more NORTH CAROLINA students through opportunity scholarships.
Continued the growth of charter schools in NEW YORK CITY and across the state.
Ensured equitable funding for all PENNSYLVANIA public schools—traditional and charter alike.
Supported equitable funding for school oversight entities in TENNESSEE.
Progress
Expanded the number of high-quality school options in NEWARK, NEW JERSEY.
Passed legislation that authorizes high-quality operators of schools of choice to employ principals and teachers in MARYLAND.
Improved the public charter school landscape by promoting funding parity and stronger charter management in MINNESOTA.
Ensured NORTH CAROLINA charter schools receive more equitable and timely funding.
Expanded the growth of high-quality schools in ALLEGHENY COUNTY, PENNSYLVANIA.
Provided fair, sustainable school facilities aid to all public schools in RHODE ISLAND.
Aim higher
Wins
Disaggregated student achievement data by ethnic community in order to better tailor supports and resources in MINNESOTA.
Successfully passed an Achievement School District bill in NORTH CAROLINA.
Elevated personalized learning as a statewide education priority in RHODE ISLAND.
Successfully passed an Achievement School District bill in SOUTH CAROLINA.
Supported the passage of legislation that requires the TENNESSEE Department of Education to develop a system to grade schools based on student achievement and growth.
Supported priority school rankings in TENNESSEE schools.
Fully supported and protected the implementation of the Individualized Education Act in TENNESSEE.
Progress
Increased financial transparency for all GEORGIA schools.
Reformed school discipline policies to keep students in the classroom in MINNESOTA.
Fostered greater local funding commitments for K-12 education in NORTH CAROLINA.
Ensured the education funding formula is fair and focused on the needs of students in RHODE ISLAND.
Cultivate talent
Wins
Launched the Baltimore Principal Leadership Consultancy in MARYLAND so that principals can help each other lead more children from low-income households to achieve at high levels.
Strengthened accountability and support for SOUTH CAROLINA teachers.
Progress
Ensured that MINNESOTA develops and executes a clear, streamlined licensure process for experienced out-of-state educators.
Increased funding and support for programs focused on improving MINNESOTA teacher quality, diversity and effectiveness.
Required TENNESSEE schools to assign students based on teacher performance to avoid placement for consecutive years with underperforming teachers.
Reach everyone
Wins
Supported the implementation and rollout of Common Core aligned assessments in NEW YORK.
Streamlined testing in TENNESSEE to remove extraneous state tests from student requirements and provide greater transparency to students and families about assessment performance.
Progress
Protected the state's commitment to high standards and honest assessments in NEW JERSEY.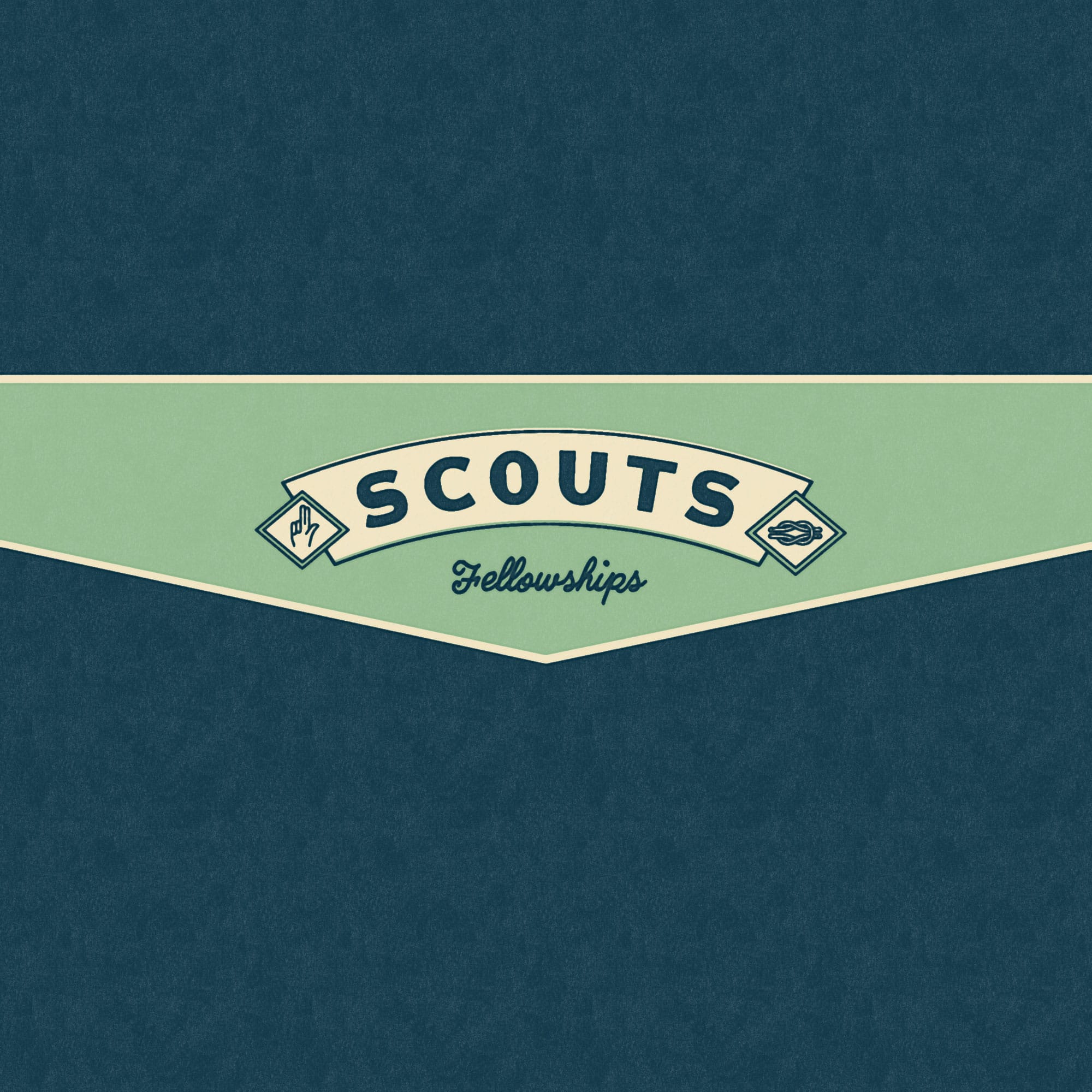 008
We launched the 50CAN Education Advocacy Fellowship in 2014 to find, connect and support local leaders in education. After a yearlong training program, these leaders build a road map to launch an advocacy campaign in their community or secure a leadership role within the education advocacy movements in their states and communities.
In 2016, we received 525 applications from 36 states and the District of Columbia. Meet the four 50CAN fellows who are exploring the wild world of advocacy together:
Amanda Aragon,
New Mexico

Amanda joins the 50CAN fellowship from the New Mexico Public Education Department where she is the director of strategic outreach. Prior to that, she spent six years in the energy sector at ConocoPhillips as the director of stakeholder relations. Amanda is a first-generation college graduate with a degree in international business and Spanish from the University of Tulsa.

Tish Johnson,
New Jersey

Tish joins 50CAN with over 15 years of combined financial, government, legal and corporate experience. Tish is the founder and CEO of the capacity-building firm The Groundwork Agency and is currently the co-chair of the program committee for the I Have A Dream Foundation-Newark and legal advisor for Girls: Live, Love, Laugh, Inc. Tish is an adjunct professor at Essex County Community College. She holds a bachelor's degree in economics from Spelman College and a juris doctorate from Georgia State University.

Arash Kamiar,
Florida

Arash joins 50CAN after serving as partner and publishing manager for six years at MetroJacksonville.com. Prior to his work in publishing, he served as a public policy scholar for Florida Blue in Jacksonville where he researched and wrote health policy. He holds a bachelor's degree in communications from Florida State University and a master's in public policy from Jacksonville University.

Seth Saavedra,
New Mexico

Seth joins 50CAN most recently from the NACA Inspired Schools Network, where he served as director of talent and advancement. Prior to that, Seth spent eight years with Teach For America, serving first as a corps member and teacher at Bridgeport Public Schools before transitioning to national roles including vice president of school systems talent matching. Seth holds a bachelor's degree in economics, philosophy and English from the University of New Mexico.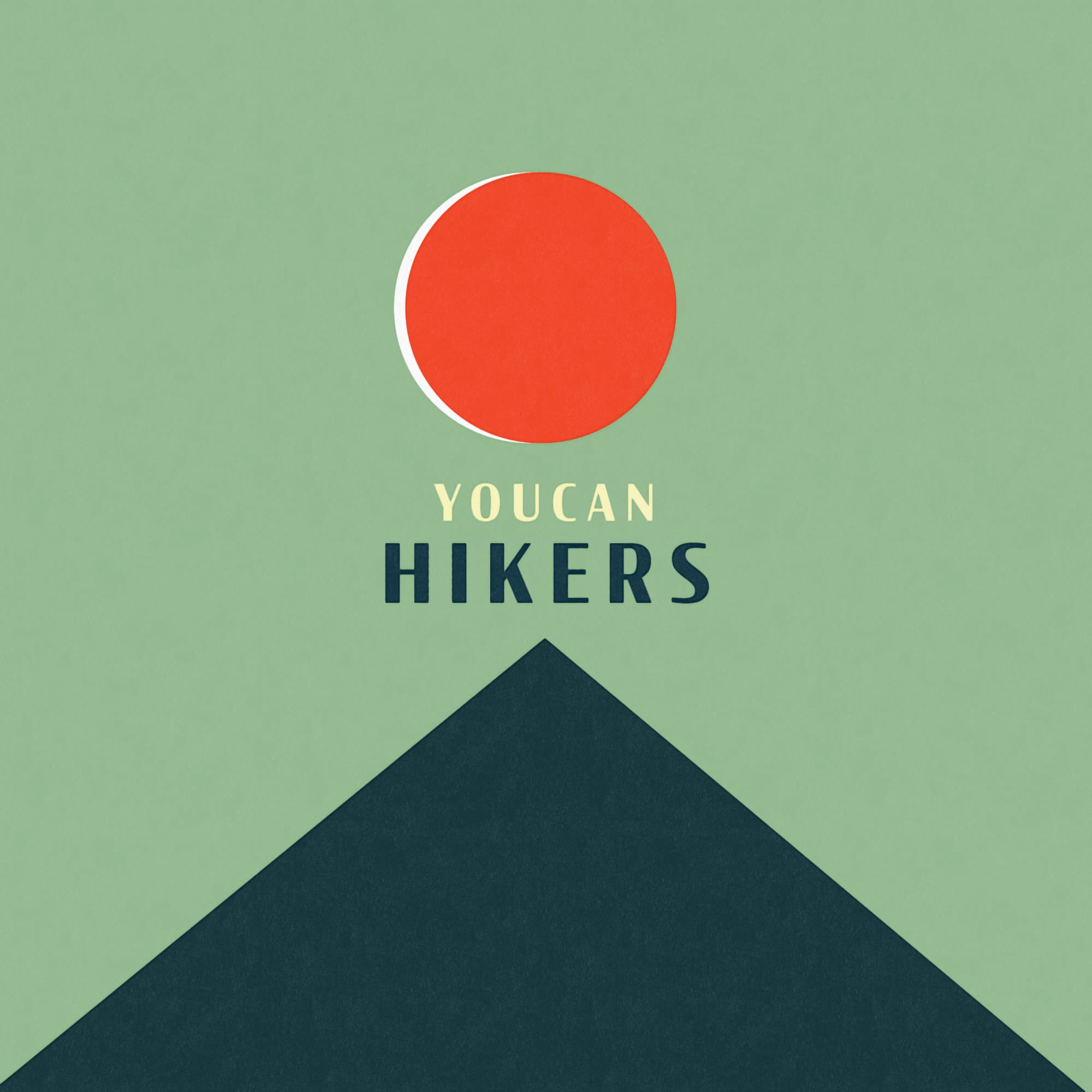 009
YouCAN is premised on one simple truth: Everyone can be a leader.
Over the past decade, the education advocacy movement has expanded dramatically—reaching more states, taking on more issues and creating a new generation of professional advocacy organizations. But we still lack the deep community roots and bench of advocates to ensure that our efforts are sustainable, successful and truly driven from the local level.
50CAN pioneered the YouCAN program in 2016 to address this urgent need. The program deepens the advocacy movement by ensuring that the voices of parents, teachers and community members are magnified, and creates the potential for large-scale, sustainable change by broadening and diversifying the education advocacy movement.
Meet the inaugural class of YouCAN Advocates and see how their visions for the future of education advocacy are shaping the landscape around us.
Maryland (0)
Maame Amoyaw
Baltimore, MD

May is a first grade teacher in Baltimore City. She holds a bachelor's degree in political science and international studies from Towson University. She is currently a master's degree candidate in early childhood education at The Johns Hopkins University. When not advocating for her students, she loves adding movies to her animated feature DVD collection and believes she will be Disney's first Ghanaian princess.

May's project: Build bridges between the community leaders who make decisions about education in Baltimore City and the parents who send their children to school every day through new forums for community engagement and dialogue.

Stephanie Brant
Gaithersburg, MD

Stephanie is an elementary school principal. She holds a bachelor's degree in psychology from James Madison University and a master's degree in educational leadership from George Mason University. When not at school, Stephanie enjoys running, cooking and reading.

Stephanie's project: Create a parent and community school advisory board to increase engagement and advocacy modeled after the principal board developed at Stephanie's school.

Abigail Swisher
Baltimore, MD

Abigail researches and writes about education policy at a think tank and civic enterprise based in Washington, D.C. In a former life, Abigail taught elementary school science and engineering in Granville County, North Carolina. She holds a certificate in middle grades education from East Carolina University and a bachelor's in psychology from Goucher College. Abigail spends most of her free time reading novels and listening to indie pop on the MARC train.

Abigail's project: Help Baltimoreans for Educational Equity (BEE) build collective power through targeted membership and engagement initiatives.

Stewart Watson
Baltimore, MD

Stewart is an artist and advocate in Baltimore who has been curating and exhibiting her work and the work of local artists for over 20 years. She holds a bachelor's degree in fine arts from The Pennsylvania State University and a master of fine art from the University of Maryland College Park.

Stewart's project: Help successfully implement Maryland's new charter law at the local level by pursuing changes at her community school with parents, administrators and community members.

Gail Wilson
Randallstown, MD

Gail is a counseling intern at a nonprofit that provides job readiness training to Baltimore City residents. Gail holds a bachelor's degree in behavioral and social science with a secondary concentration in business management from the University of Maryland University College. She is currently completing her internship for a master's degree in licensed professional counseling from Liberty University. In her spare time, Gail escapes to the fictional world of The Chosen, a middle grade adventure novel she is writing.

Gail's project: Raise awareness of the valuable contribution school counselors and paraprofessionals make to education reform.
Minnesota (0)
Sumair Sheikh
Duluth, MN

Sumair is an integration specialist with Duluth Public Schools where he develops and coordinates programs aimed to decrease the achievement gap while helping students better understand their postsecondary options. He holds a bachelor's degree in biology from Michigan State University and a master's in advocacy and political leadership from the University of Minnesota. Sumair spends his free time volunteering for local campaigns, playing basketball and volleyball and exploring the north shore of Lake Superior.

Sumair's project: Foster innovative teaching methods and encourage professional growth by pairing student teachers with the best fitting mentor teachers through the creation of a match system within a community-wide education career pathway.
New Jersey (0)
Tafshier Kim Cosby
Newark, NJ

Tafshier is a corporate billing supervisor for an international security company. She is also a parent advocate leader and co-facilitation trainer for the New Jersey Black Alliance for Educational Options and a member of KIPPNJ – Newark Collegiate Academy Parent Partnership. When not advocating for families, she enjoys teaching Newarkers about adopting a vegetarian lifestyle, reading and spending time with family.

Tafshier's project: Train parents and community members to become Parent Advocate Leaders and rethink the way schools engage parent organizers.

Tawanna Roebuck
Newark, NJ

Tawanna is a 20-year veteran of the New Jersey public sector, currently working in information technology. She is a lifelong resident of the city of Newark, New Jersey and a product of Newark Public Schools. She is a member of the Parent Coalition for Excellent Education and New Jersey Black Education Alliance Organization, as well as co-chair of Rise Academy Parent Partnership. Her favorite pastimes are reading, cooking and traveling.

Tawanna's project: Increase voter turnout by building a local grassroots committee that will go door-to-door and school-to-school to remind and educate neighbors and community stakeholders about the importance of voting.
New York (0)
Gisele Shorter
New York, NY

Gisele is the vice president/executive director for New York and New Jersey at Turnaround. Prior to joining Turnaround, Gisele was a founding member of the ROADS charter high schools executive leadership team. Gisele earned her doctorate from Columbia University Teachers College, department of health and behavioral studies.

Gisele's project: Initiate a targeted campaign to establish a shared identity, vision and voice for African-American philanthropists to harness political power, set a policy agenda and ensure a sustainable funding stream.
North Carolina (0)
Sade Richardson
Roxboro, NC

Sade is a literacy tutor and arts advocate. While she obtained her degree in business, she has utilized her skills to develop art and youth programming. Often times, you can catch her creating, encouraging or reading.

Sade's project: Start a conversation surrounding education policy in Person County, North Carolina and create a network of community arts and education advocates to foster and sustain improvement in the local educational landscape.

Jason Terrell
Charlotte, NC

Jason is the co-founder of Profound Gentlemen, a nonprofit dedicated to increasing the national percentage of male educators of color. He holds a bachelor's degree in political science, philosophy and black studies from Furman University and a master's degree in education from The Johns Hopkins School of Education. Jason is a hip-hop enthusiast, enjoys playing the guitar and connecting with family and close friends.

Jason's project: Elevate the voices of black men in education and increase awareness around the impact that male educators of color have on boys of color.
Pennsylvania (0)
Toya Algarin
Philadelphia, PA

Toya is a member of the board of trustees for KIPP, serving KIPP Philadelphia Charter School, KIPP West Philadelphia Preparatory Charter School and KIPP DuBois Charter School. She received her bachelor's degree in business administration from LaSalle University. She enjoys crocheting, playing with her grandchildren and barbecuing.

Toya's project:Create a coalition of engaged KIPP parents that will advocate for the children, families and communities they serve by recruiting parent leaders who will collectively create a parent engagement strategy for families at KIPP.

Renee' Brown
Philadelphia, PA

Renee' is a mother of five children and a licensed practical nurse. When she is not trying to educate those in her community on advocacy, she is attending countless football and basketball games.

Renee's project: Create a blog on education advocacy for parents focused on practical advice on how to speak for children and ensure that they are on track for college and beyond.

Shallegra Moye
Pittsburgh, PA

Shallegra is a quality analyst for a Medicaid health plan. She holds a bachelor's degree in communications for social justice and a master's of public health. Shallegra is deeply involved in volunteering with her local school, youth development organizations and the department of public safety. She enjoys reading, research and everything on Investigation Discovery.

Shallegra's project: Help support a local charter school's transformation into a more supportive school that acknowledges, addresses and provides practical interventions for children experiencing chronic trauma.
Rhode Island (0)
Yaneli Almonte
Providence, RI

Yaneli is a director for the Providence YMCA. She is one of two first generation college graduates from her family, holding a bachelor's degree in event management with a minor in psychology from Johnson and Wales University. Her two children, Yanmark and Celene, have driven her to become a passionate education advocate.

Yaneli's project: Help parents become advocates for quality educational choices for their children by uniting them to create a community that defends their children's future.

Karyn Frink
Cumberland, RI

Karyn is an account manager and trainer in the call center at Amica Insurance and a member of the Blackstone Valley Prep Parent Advocacy Fellowship, which furthers parents' ability to advocate for school choice. She attended the Art Institute of Boston and graduated with a degree in photography. When she isn't busy with her middle school girls, she enjoys gardening, reading and shopping.

Karyn's project: Provide a comprehensive online repository of special education resources for parents of scholars with learning disabilities, including a blog, parent presentations and social media toolkits.

Robert Lin
Pawtucket, RI

Robert works on Teach For America's Strategic Initiatives & Partnerships team, where he leads the organization's work around STEM teacher recruitment. Prior to this role, Robert worked as a campus recruiter, instructional coach and educator based out of his home state of Rhode Island. He holds a bachelor's degree in economics from the University of Chicago and a master's degree in urban education policy from Brown University, where he was an Urban Education Fellow.

Robert's project: Connect individual parents, students and teachers with local resource-rich neighborhood institutions like libraries and nonprofits to elevate the voices of individual leaders at the local and state level.
Washington, D.C. (0)
Kesha Lee
Washington, D.C.

Kesha is a consultant and literacy advocate living in Washington's Ward 8. Recently, she was senior director of a social enterprise focused on getting new books to kids living in under-resourced communities. She is passionate about educational equity, economic empowerment, books, comfort food, theatre arts, photography and experiencing the world.

Kesha's project: Engage community members, literacy social services agencies and other stakeholders in a campaign that connects parents and adult learners with evidence-based reading tips in public spaces.

Jaclyn Smith
Washington, D.C.

Jaclyn is the director of alumni leadership at Teach For America and has worked as a classroom teacher and director of community engagement at Lighthouse Academies Public Charter School in Washington D.C. and with the D.C. Public Schools Office of Human Capital. She holds a bachelor's degree in mass communication and journalism from the University of Utah and a master's degree in elementary education and public policy from the University of Missouri.

Jaclyn's project: Elevate teacher voices and ensure broad representation in the D.C. education policy landscape through the creation of a database for teachers to access current education policy bills and a student ambassador program to connect classrooms with legislators.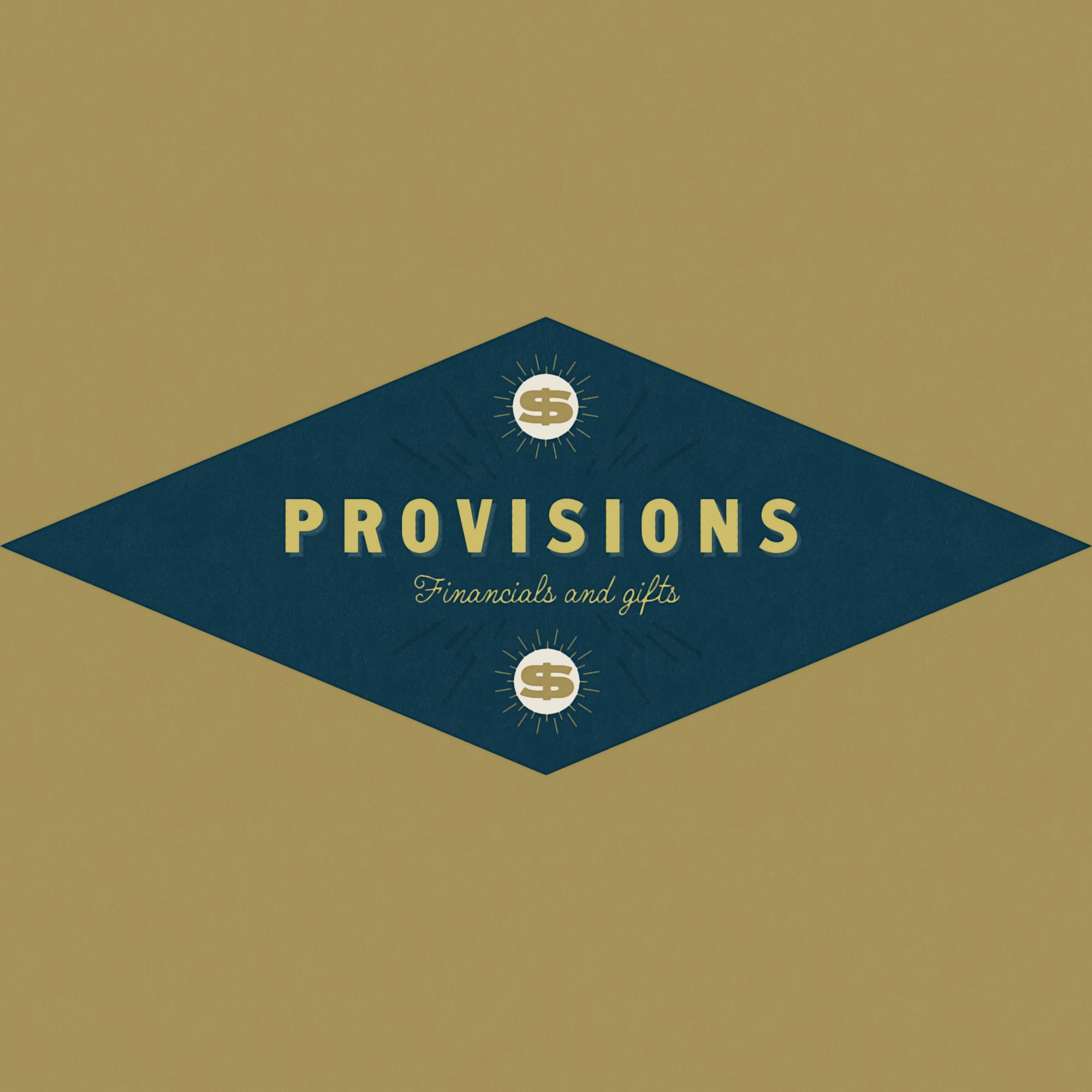 010
None of our work would be possible without the generous donations that our most committed supporters provide to power the whole network.
Balance sheet
2016 Assets
| | |
| --- | --- |
| Cash and cash equivalents | 1,561,470 |
| Contributions receivable, net | 2,882,525 |
| Prepaid expenses and other assets | 72,499 |
| Deposits | 23,084 |
| Property and equipment, net | 44,403 |
| | 4,583,981 |
2016 Liabilities and Net Assets
Liabilities
Accounts payable and accrued expenses
187,466
Total Liabilities
187,466
Net Assets (Deficiency)
Unrestricted
2,216,410
Temporarily Restricted
2,180,105
Total Net Assets
4,396,515
4,583,981
50CAN Statement of Activities, December 31, 2016
Revenue
Contributions
8,073,794
In-kind contributions
2,202
Interest income
16
Service fee and other income
2,715
Net assets released from restriction
2,389,346
Total Revenue
10,468,074
Expenses
8,285,037
Change in Net Assets
2,183,037
Net Assets
Beginning of period
33,373
End of period
2,216,410
Revenue
Contributions
2,047,443
In-kind contributions
–
Interest income
–
Service fee and other income
–
Net assets released from restriction
-2,389,346
Total Revenue
-341,903
Expenses
–
Change in Net Assets
-341,903
Net Assets
Beginning of period
2,522,008
End of period
2,180,105
Revenue
Contributions
10,121,237
In-kind contributions
2,202
Interest income
16
Service fee and other income
2,715
Net assets released from restriction
–
Total Revenue
10,126,171
Expenses
8,285,037
Change in Net Assets
1,841,134
Net Assets
Beginning of period
2,555,381
End of period
4,396,515
2016 Donors
$100,000+

Bloomberg Philanthropies
Harold K.L. Castle Foundation
Community Foundation for Greater Atlanta
The Heinz Endowments
Longwood Foundation
Jim McCormick
Memphis Education Fund
The Prudential Foundation
RKMC Foundation
Arthur & Toni Rembe Rock
Jonathan Sackler
Walton Family Foundation
Anonymous (5)

$50,000–$99,999

Carnegie Corporation of New York
KRV Foundation Fund of the Baltimore Community Foundation
McKnight Foundation
Richard King Mellon Foundation
The Minneapolis Foundation
Newark Charter School Fund
Turrell Fund
Janine & Jeff Yass
Anonymous (2)

$5,000–$49,999

Baird Foundation
Baltimore Community Foundation
Barclays
The Bernard Family Fund of the T. Rowe Price Program for Charitable Giving
Ann Borowiec
Otto Bremer Foundation
John Bryan
The Curtis L. Carlson Family Foundation
The Charlesmead Foundation
Comcast Corporation
Joe C. Davis Foundation
Educational Testing Service
The Eugene U. and Mary F. Frey Family Fund of the Saint Paul Foundation
John and Denise Graves Foundation
Healey Education Foundation
Healey Family Foundation
The High-Quality Assessment Project
F.M. Kirby Foundation, Inc.
Daniel Loeb
Maeve Foundation Inc.
Brigitte and Donald Manekin Family Philanthropic Fund of the Associated Jewish Community Federation of Baltimore
The Marcus Foundation, Inc.
Steve and Kathie Markel Donor Advised Fund of Richmond Jewish Foundation
McAdams Charitable Foundation
Dick and Joyce H. McFarland Family Fund of The Minneapolis Foundation
The MCJ Amelior Foundation
Joseph and Harvey Meyerhoff Family Charitable Funds
Milwaukee Works
New Jersey Natural Gas Company Charity
Normandy FW LLC
Marsha Reeves
Robins Foundation
The Rouse Company Foundation
William E. Simon Foundation
Saint Paul Foundation
The Walter V. and Judith L. Shipley Family Foundation
Smikis Foundation
Speedwell Foundation
T. Rowe Price Foundation
The Travelers Foundation
TriMix Foundation
Twin Chimney Inc.
Jim & Bobbie Ukrop
Josh and Judy Weston Family Foundation, Inc.
William Penn Foundation
Anonymous

$1,000–$4,999

ABM Property Management
Kim Lee Bedford
Patricia and Thomas Canfield
Lawrence & Martha Colen
Kitty Crosby
Gary DeBode
Mr. and Mrs. William H. Goodwin, Jr.
Haldeman Family Foundation
The Mike Jones Fund of the Ayco Charitable Foundation
Lineto GmbH
Larry and Judith Lippman
Christine Lopes Metcalfe
Kate and David Mortenson
Thomas Oberdorfer
The Pechter Foundation
Michael Phillips
Adiah Reid
Brenda and Phillip Rever
Laurisa and Porter Schutt
Whitney Foundation
Susan A. and Paul C. Wolman Jr. Fund of the Baltimore Community Foundation
Anonymous (2)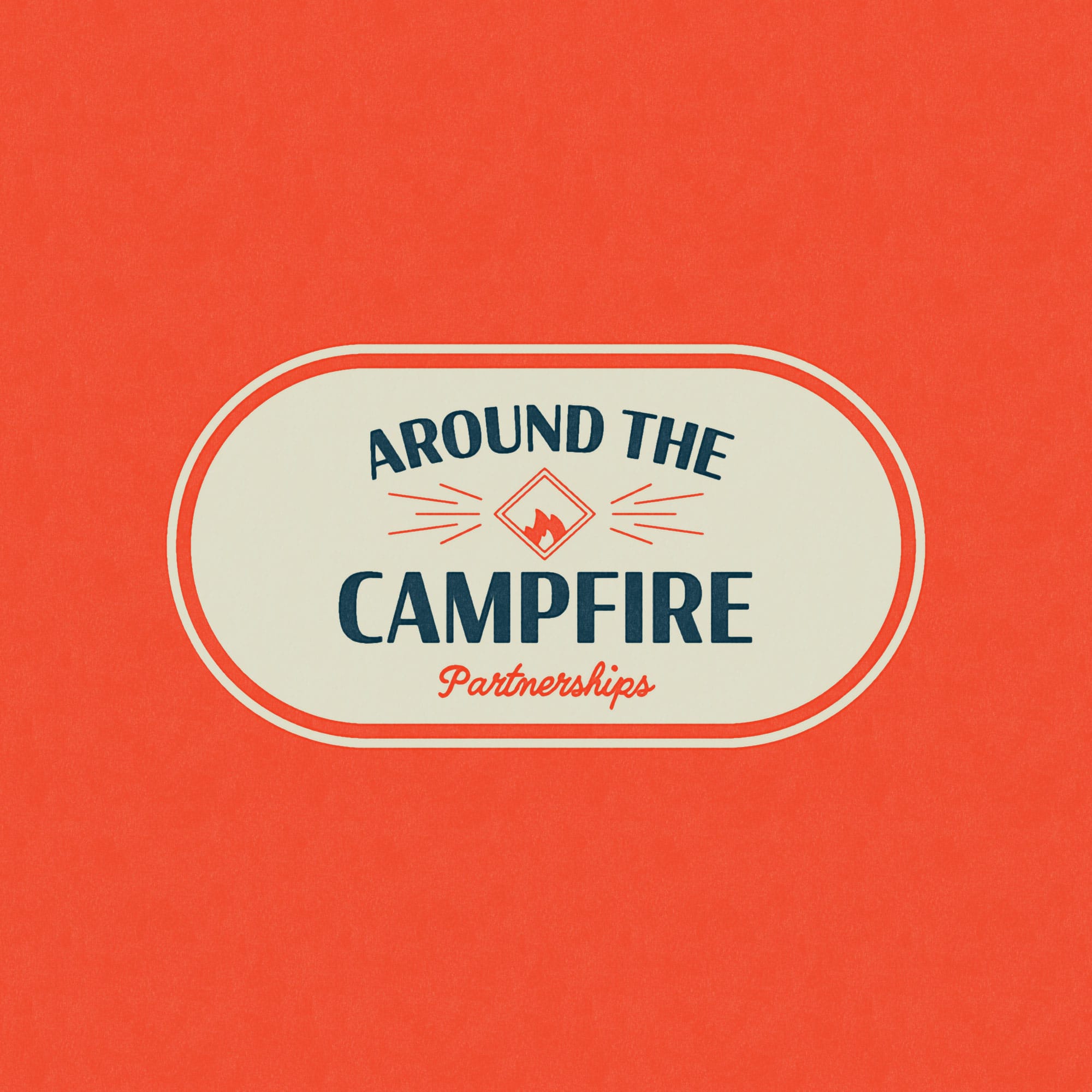 011
We all have a place at the campfire. The work that 50CAN does is part of a larger mosaic of dedicated organizations that work toward the most equitable school systems in the world. We're proud to partner with the following organizations:
50CAN
America Succeeds
Black Alliance for Educational Options
ConnCAN
Convergence Center for Policy Resolution
Education Post
The Thomas B. Fordham Institute
Hispanic CREO
National Association of Charter School Authorizers
National Alliance for Public Charter Schools
New America
PIE Network
Teach For America
The 74 Million
GeorgiaCAN
21st Century Partnership
American Federation for Children
Ambitious Work
Atlanta Families
Book ATL
EdConnect
Excellence in Education
Georgia Chamber of Commerce
Georgia Charter School Association
Georgia Partnership for Excellence in Education
Georgia Early Education (GEERS)
KIPP Ways Academy
Lilly Foundation for Change
Metro Atlanta Chamber of Commerce
Mocha Moms of DeKalb County
One Atlanta
SOS
Teach For America Metro Atlanta
Voices for Georgia's Children
JerseyCAN
Academy for Urban Leadership Charter High School
Advocates for Children of New Jersey
Better Education for Kids
BRICK Schools in Newark
Camden Catholic Schools Partnership
Camden City School District
Camden Community Charter School
Cooper Foundation
Democrats for Education Reform
Garden State Coalition of Schools
Great Oaks Charter School
KIPP New Jersey
Lady Liberty Charter School
Leadership for Educational Equity
M.E.T.S. Charter School
Marion P Thomas school
Mastery Charter School Network - Camden
Millville Public Charter School
National Council of La Raza
New Jersey ASCD
New Jersey Black Alliance for Educational Options
New Jersey Business and Industry Association
New Jersey Chamber of Commerce
New Jersey Charter School Association
New Jersey Council of County Colleges
New Jersey PTA
New Jersey School Boards Association
Newark Charter School Fund
Newark Legacy Charter School
Newark Public Schools
NJ Principals and Supervisors Association
NJ Superintendents Association
Parent Coalition for Excellent Education (PC2E)
Parents for Great Camden Schools
Partnership for Educational Justice
People's Prep Charter School
Pre-K Our Way
Queen City Academy Charter School
Robert Treat Academy
Teach For America
Thomas Edison Energysmart Charter School
Uncommon Schools
University Heights Charter School
Vineland Public Charter School
MarylandCAN
Baltimore City Schools
Baltimore Community Foundation
Baltimore Leadership School for Young Women
Baltimore's Promise
Empowerment Academy
Faith Leaders for Excellent Schools
Fund for Educational Excellence
KIPP Baltimore
Maryland Alliance of Public Charter Schools
Patterson Park Public Charter School
Ruth and Norman Rales Foundation
Teach For America
NorthCarolinaCAN
American Federation for Children
Best NC
Charter USA
Education Alliance
NC Charter School Alliance
NC Institute of Political Leadership
Parents for Educational Freedom NC
Profound Gentlemen
Teach For America—Piedmont Triad
NYCAN
American Enterprise Institute
California Charter Schools Association
Colorado Charter Schools Association
Donnell Kaye Foundation
Ed Pioneers
Education Council
Families for Excellent Schools
Leadership for Educational Equity
National Alliance of Public Charter Schools
New York School Boards Association
PIE Network
Robins Foundation
StudentsFirstNY
Success Academy
Teach For America
Yale School of Management
PennCAN
A Plus Schools
City Charter High School
Propel Schools
Urban Academy Charter School of Greater Pittsburgh
Manchester Academic Charter School
Spectrum Charter School
Environmental Charter School
Philadelphia School Advocacy Partners
Philadelphia School Partnership
RI-CAN
Achievement First
Blackstone Valley Prep
Highlander Institute
League of Charter Schools
Office of Innovation, Rhode Island Department of Education
Providence Public School District
Rhode Island Mayoral Academies
Teach For America
SouthCarolinaCAN
Foundation for Excellence in Education
Palmetto Promise
Public Charter School Alliance of South Carolina
TennesseeCAN
American Federation for Children
Campaign for School Equity
Jubilee Schools
Stand For Children
Tennessee Charter Center
Tennessee SCORE